7th Annual Katy Old Fashioned Christmas Festival - Dec 17th 2016
***RESCHEDULED TO DEC 17th 10am-5pm***
CHRISTMAS MARKET 2016
—>>> VENDOR REGISTRATION: CLOSED/FULL <<< —
—>>> SPONSORSHIP BOOTHS: CLOSED/FULL <<< —
WE HAVE OFFICIALLY RESCHEDULED THE KATY OLD FASHIONED CHRISTMAS FESTIVAL!
SATURDAY DECEMBER 17th | 10AM – 5PM | HISTORIC DOWNTOWN KATY
We are so excited that thankful that we were able to work hard and get this event rescheduled for everyone involved!
The event will still feature 50,000 lbs of snow, photos with Santa $5, 180 vendors, No Label Brewery beer garden, food trucks and kid activities from 10 AM to 5 PM. Please note time changed to 10-5 (it was 11-7).
*The City of Katy's official Christmas tree lighting ceremony that was scheduled for tomorrow evening has been cancelled, but the Christmas tree and lights of City Hall are now on for your enjoyment!
**Any open vendor spots from cancellations will be announced on Monday 12/5 & will be filled based on first-come-first-serve to people signing up in the shop!
Limited Edition Art & Antiques: 5717 2nd St., Katy, TX 77493
Call 281-391-1993 for any questions!
——————————————-
We invite you, your friends, and family to our FREE event – 7th Annual a "Katy Old Fashioned Christmas Festival" located in Historic Downtown Katy on December 17! Graciously hosted by Katy Market Day in partnership with the Official – City of Katy.
This special Christmas market will feature produce, arts and crafts, antiques, jewelry, gifts, carolers, food, entertainment, and… 50,000 LBS OF SNOW for the kiddos! We invite you and your family to an Old Fashioned Katy Christmas Festival hosted by Katy Market Days in partnership with the City of Katy. It will feature produce, arts and crafts, antiques, jewelry, gifts, carolers, food, entertainment, and 50,000 lbs. snow arriving at noon. You can get your picture taken with Santa too in Harvest Plaza 12-4pm for only $5 – photos printed on site! No Label Brewery will also have their famous BEER GARDEN on the corner of 3rd St & Ave B – open ALL DAY for everyone to enjoy. 
While you are in town shop our great boutiques, antique and gift shops and enjoy our visiting food trucks and local restaurants.
Remember you must be selling a product! We do accept 8 business sponsors at the Christmas event only, this fee is $250.00 and you will be included in banners, advertising and social media. You will have a booth where you may pass out info on your business. We only allow this at the Christmas Market as we close all 4 streets and have more room.
Contact us by email at info@katymarketday.com to sign up or Find us on Facebook. 
Click on Map Below to enlarge. Please keep in mind this map is subject to change due to revitalization of downtown Katy.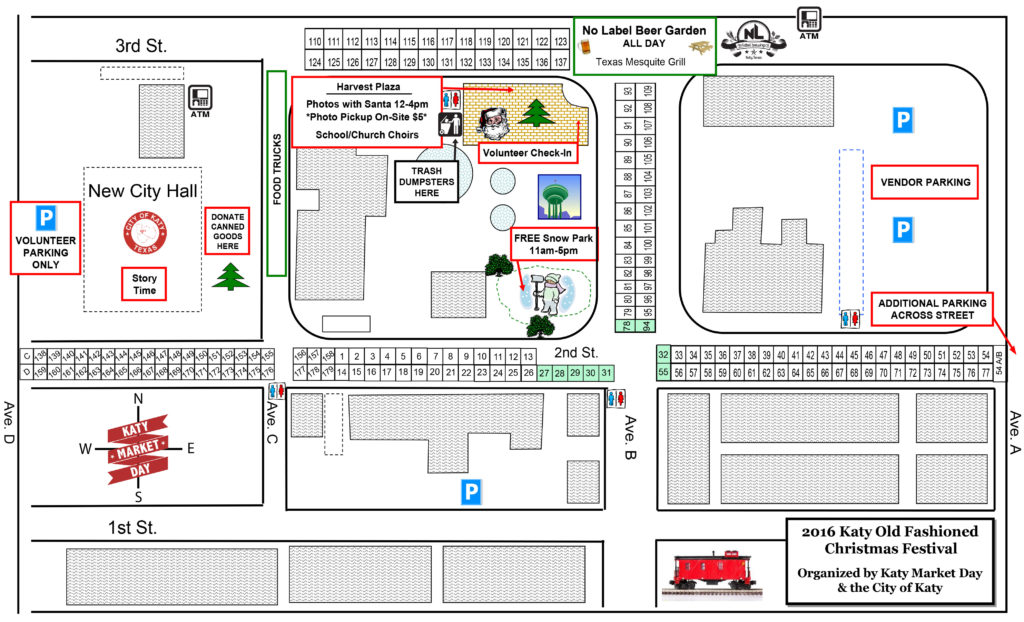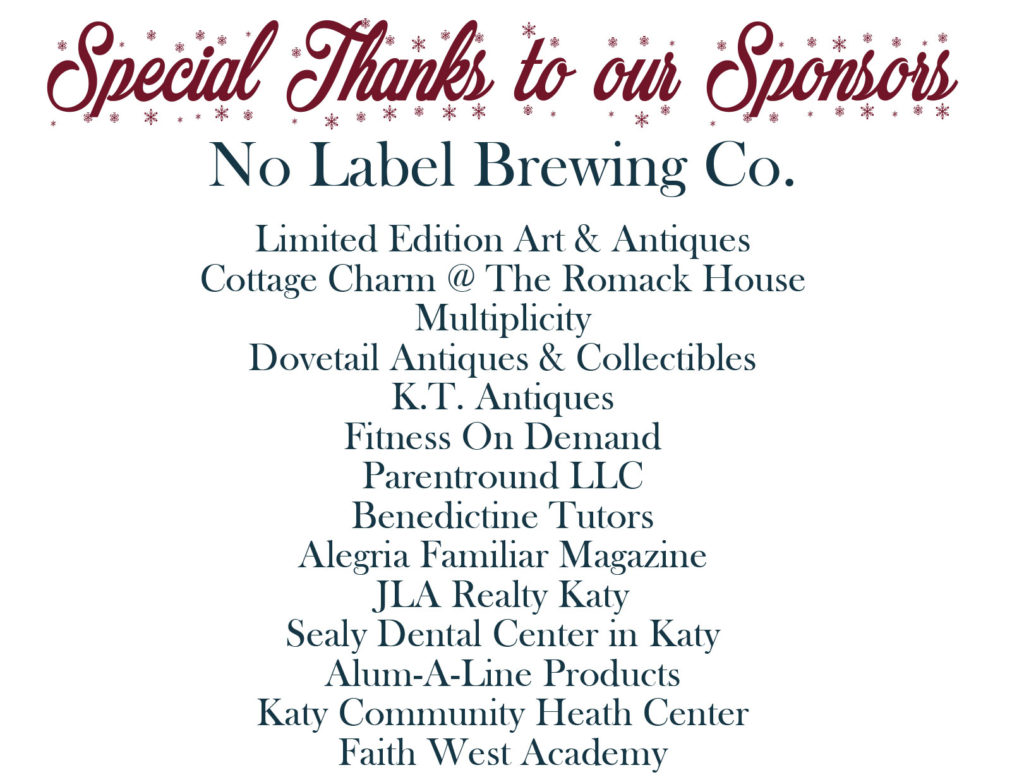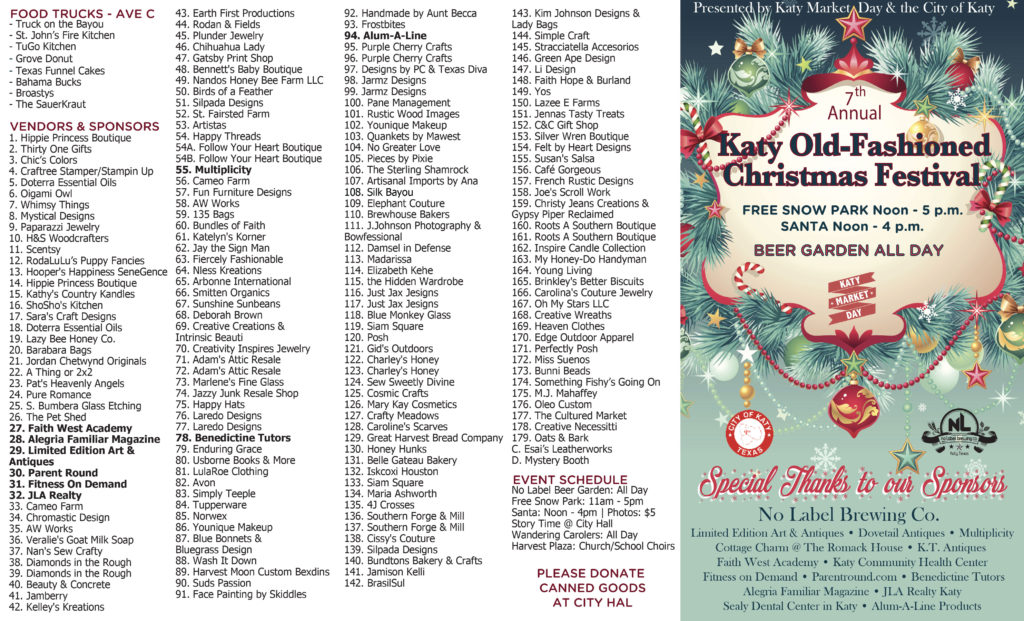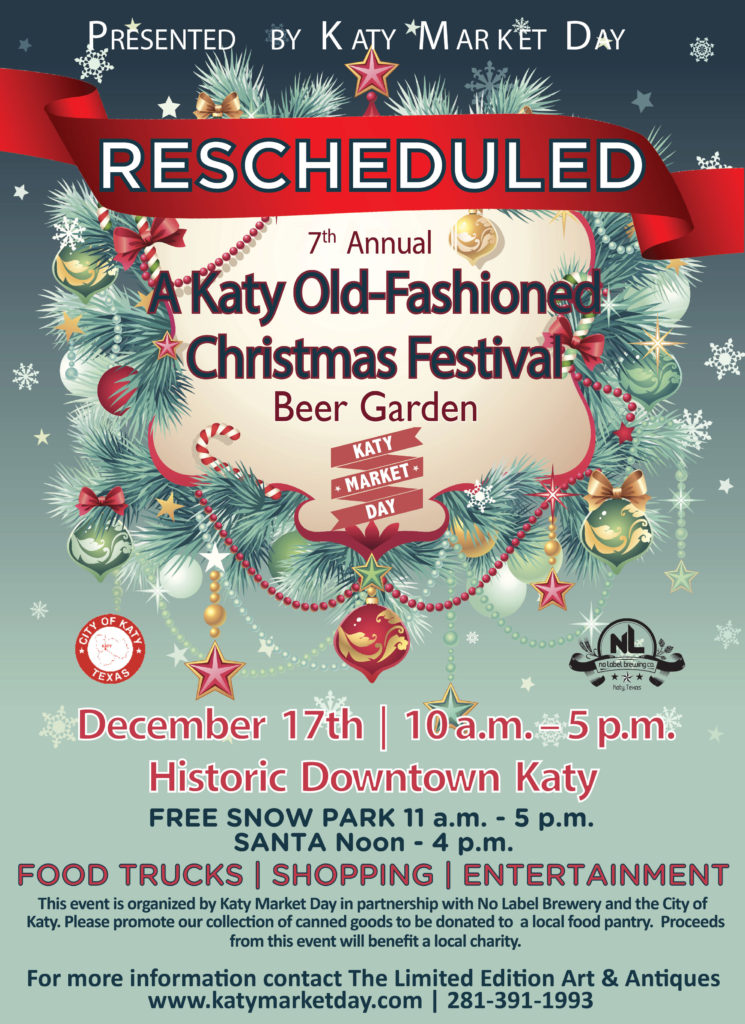 Please download and print the registration form below – kindly drop off this completed form including your cash or check (no cards) at The Limited Edition 5717 second street Katy, Tx 77493. Checks payable to Katy Market Day. You can also mail in this application including your check or cash, but please note that priority is given to those who sign up in person. 
VENDORS (Registration CLOSED/FULL)
2016 Christmas Vendor Registration Form – PDF
2016 Christmas Vendor Information – PDF
SPONSORSHIP (Registration CLOSED/FULL)
KMD 2016 Christmas – Sponsorship Form – PDF
KMD 2016 Christmas – Corporate Booth Space Form – PDF
Please follow the directions on the forms and return to info@katymarketday.com or stop by our shop!